May 7, 2011
=


Giamela's Submarine Sandwiches has been serving the Burbank area for as long as some can remember. It is a well known local favorite, and a customer pick during the lunch time rush. Sitting only a quick walk from the Burbank Water and Power building, as well as the Burbank Chamber of Commerce, Giamela's is a hot spot for some good old fashioned deli sandwiches.



With a variety of hearty meat, the sub sandwiches come in two sizes. The small is $6 and the large is $7, but don't let it fool you, I couldn't even finish the small! These delicious monsters come topped with mayo and mustard, chopped chunks of pickles, onions, tomatoes, as well as sliced cheese. With everything pack into the soft bread roll, these sandwiches are massive, making sure you get what you deserve.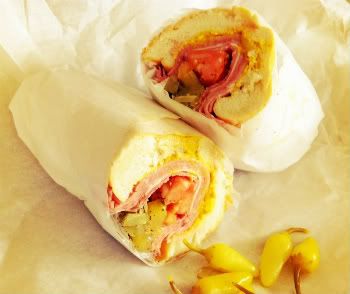 Their assortment of sandwiches ranges from pepper steak, sausage, meat ball, pastrami, Italian cold cut, ham, turkey, tuna, and pepper and egg. I had the Italian cold cut, which was juicy and fresh. Topped with the works, this thing was a challenge to eat, but every bite was worth it. They are also known for their great pastrami sandwiches, both delicious and mouth watering. . It's no wonder the line reaches to the door! Fortunately the line moves fast, and the employees are quick and attentive, calling down the line, while each employee takes on their own customer.




Giamela's is cash only! So come prepared or leave disappointed. With your sandwich they also offer bags of chips and soda cans. There is parking in the rear, as well as limited street parking. The lot has an entrance to the back of the store so you can arrive either way. Like all my favorite deli's it offers a bar stool deli counter, which to me is the only way to eat a sub sandwich. They also offer regular tables as well as outside seating.

What impressed me the most about Giamela's is their environmentally friendly quality. A sign above the trash can asks that customer not throw their soda cans away, but to place them on top, so they may further by recycled. It's always nice to see a local restaurant do their part in helping the community and the environment. Kudos to Giamela's.

Location: 216 W. Magnolia Blvd.
Hours: Mon-Sat 10am-9pm, Sun 10-8pm
(818) 845-6611