Apr 29, 2011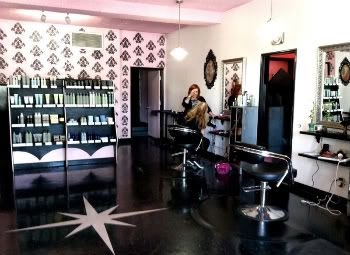 You've heard of Frenchy, the Pink Lady from Grease, who dyed her hair pink in tinting class and became a beauty school dropout. Well that quirky cutie is exactly the inspiration behind this Magnolia Blvd. beauty parlor. Frenchy's offers waxing, hair, and makeup but also specializes in vintage up-do's and rocker/punk styles, as projected by it's super sexy retro interior.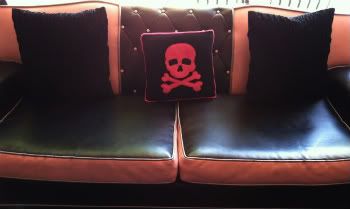 Black and pink dominate the parlor walls and accessories, such as it's leather couch and skull pillow, and 50's styled coffee table set up with some extremely interesting reads. Forget People Magazine! Pick up a copy of So Now You're A Zombie: A Handbook for the Newly Undead, by John Austin or Sailor Jerry Collins: American Tattoo Master, by Jerry Collins himself. That is only one of the cool things around the salon that make it so unique and different.

As you all know I am a big fan of local artists and supporting neighboring dealers, and so is Frenchy's. The salon offers a couple shelves of hand made accessories directly from their clients. One of a kind hair bows, with a stellar price. $10 for the small, $12 for the large. As well as some incense, flower hair clips, and extremely cute cupcake designed cooking utensils, including aprons and oven mitts.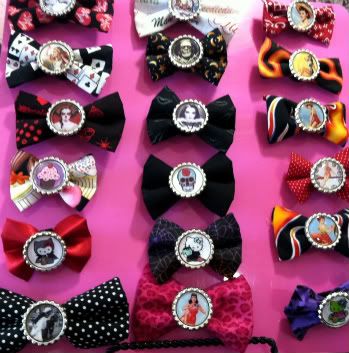 If you haven't picked up the vibe of this place by now, let me make it more clear. Rock music not in the background but in the forefront, so that you can actually hear it and enjoy it. Stylists with more coolness in their big toes than you and I have in our entire body. And my favorite, a tattooed version of a sexy Marilyn Monroe, framed and hung on the wall. My kind of place!

That's not all that's on these pretty in pink walls. Frenchy's highlights different local artists and sells their work in the stores. Right now, the walls are covered in different pieces by painter, illustrator, and animator, Audrey Knight. Here is a description of the paintings from her Mammalian Military line that she has featured on the salon walls:

"They are the illustrations to accompany a grown-up fairytale; a world where hares plot assassinations, and horses are afraid to go back home to a life they've forgotten. The animals are proud, patriotic, and heroic in their devotion to their nations and their cause. But there is also a weariness, fear and the occasional pain of doubt that accompanies the atrocities of war. With blood and time even the clear lines between good and evil, holy and unholy, hero and villain blur and become unrecognizable.
The animals are at war with each other, yet each feels the moral justification of supporting the 'right' side."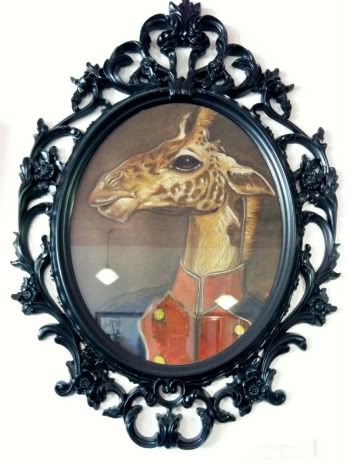 Enough about the layout. This beauty parlor doesn't just have the looks, it has the skills to roll along with it. Using and carrying the complete Aveda hair-care and color line, Frenchy's offers many styling options, including the new and popular hair trend: feathers and crystals. Or try their special Brazilian Blowout offer, $100 cheaper for the first session than other shops. Despite all the pink, this place doesn't discriminate. They service people of all ages and genders, including children as young as 2 years old. For a full price list, see below.






New owner and stylist, Lacey Walker, has done a fabulous job keeping the salon fun and vibrant as well as economically progressive. She is very supportive of the community and environment and recycles all bottles and caps used, as well as using recycled paper products and energy saving lights. Everyone at Frenchy's is very friendly and very talented in what they do. So, next time you need a trim or some highlights, drop by Frenchy's for some great service and some visually stimulating artwork.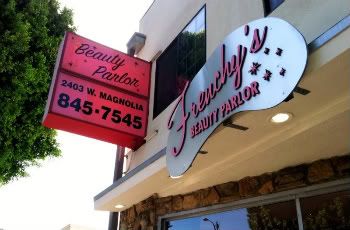 Location: 2403 W. Magnolia Blvd.
(818) 845-7545
Hours: Mon 11-4, Tues 10-6, Wed & Thurs 11-8, Fri 10-6, Sat 9-5, Sun 10-5
www.Frenchysbeautyburbank.com