Apr 21, 2011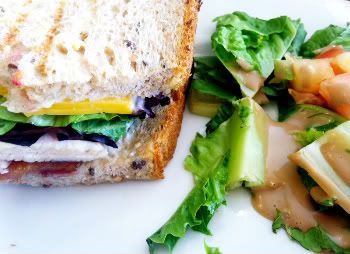 With it's modern exterior and retro interior, I had no idea what to expect. I figured probably vegan food or highly overpriced meals that can fit in the palm of your hand…but it was far from that. Urban Eats sits on one of the corner blocks, it's wide glass walls, and stainless steel sign are extremely hard to miss. That's probably why I chose this place first.



I had driven past it numerous times, always seeing the tables swarmed with people. This place was happening and I wanted in! The average price range for a lunch or dinner item is about $6-$10.95, which is pretty reasonable considering the taste and epic proportions. For a two person meal you're looking to spend about $25. Plus, I walked out with a swollen belly and a smile on my face.




We ordered the Turkey Bacon Panini off the sandwich list in the menu, and the Red Tostada salad off the neon printed chalk board of specials. The service was fast and friendly, and luckily we had arrived moments before the lunch time rush. Whew! As you can tell by the picture, the Panini was gorgeous! Accompanied by a cute little side salad, this Panini was excellent. The turkey juicy, the bacon crispy, the cheddar perfectly melted, all pressed between two slices of well matched organic 9 grain wheat bread. Is your mouth watering yet? If not, the tostada will definitely do the trick.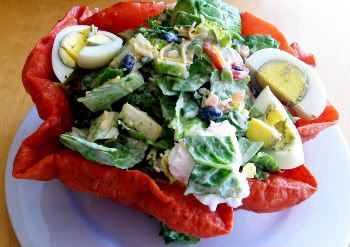 In a red shell the size of a rotary phone, laid a bed of crisp romaine lettuce, topped with black beans, red bell pepper, mixed cheese, pico de gallo, avocado, hard boiled egg, and tossed in a creamy chipotle dressing. Talk about the works…this thing had sex appeal! It's spicy and sweet flavors made every bite a surprise. This place had me hooked. Taste, presentation, and proportion: three things always on my checklist.

Think it can't get any better? Just wait! They serve beer and wine, and you can even order wine by the bottle! A healthy meal, a bottle of red wine, and a beautiful array of artwork scattering the walls for entertainment. If you don't like art, no problem, turn around and watch the flat screen t.v. It's open glass gives the place a lot of natural light which is always a plus and the mod chairs are fun and relaxing. A definite must on my list.

Their website offers a full menu so you can come prepared, and they also offer takeout and catering.

http://www.urban-eats.com/
Location: 3501 W. Magnolia Blvd.
Hours: Mon-Sat 11-8 (closed Sun)